Who We Are
Eliot Coleman
Eliot Coleman is the author of The New Organic Grower, Four Season Harvest, and The Winter Harvest Handbook. He has written extensively on the subject of organic agriculture since 1975, including chapters in scientific books and the foreword to Keeping Food Fresh: Old World Techniques and Recipes by the gardeners and farmers of Terre Vivant.
Eliot has more than 50 years' experience in all aspects of organic farming, including field vegetables, greenhouse vegetables, rotational grazing of cattle and sheep, and range poultry. During his careers as a commercial market gardener, the director of agricultural research projects, and as a teacher and lecturer on organic gardening, he studied, practiced and perfected his craft. He served for two years as the Executive Director of the International Federation of Organic Agriculture Movements and was an advisor to the US Department of Agriculture during their landmark 1979-80 study, "Report and Recommendations on Organic Farming."
He has conducted study tours of organic farms, market gardens, orchards and vineyards in Europe and has successfully combined European ideas with his own to develop and popularize a complete system of tools and equipment for organic vegetable growers. He shares that expertise through his lectures and writings, and has served as a tool consultant to a number of companies. He presently consults and designs tools for Johnny's Selected Seeds.
With Barbara, he was the host of the TV series, Gardening Naturally, on The Learning Channel. He and Barbara presently operate a commercial year-round market garden, in addition to horticultural research projects, at Four Season Farm in Harborside, Maine.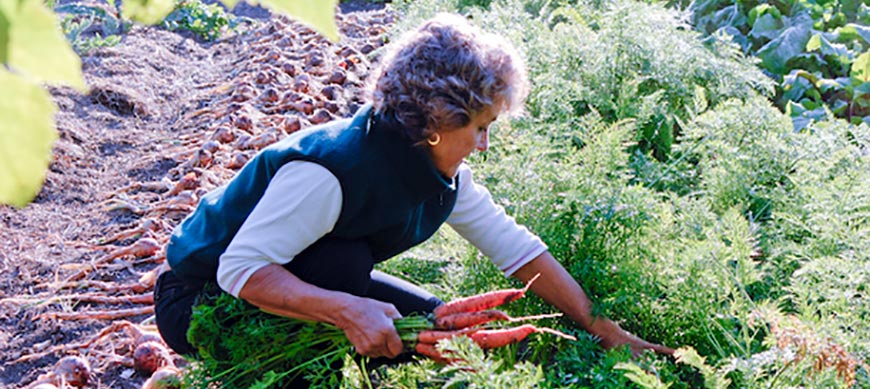 Barbara Damrosch
Barbara Damrosch has worked professionally in the field of horticulture since 1977. She writes, consults and lectures on gardening and is co-owner, with her husband Eliot Coleman, of Four Season Farm, an experimental market garden in Harborside, Maine.

From May 2003 to September 2017 she wrote a weekly column for The Washington Post called "A Cook's Garden."
She is the author of several books, The Garden Primer, Theme Gardens, and The Four Season Farm Gardener's Cookbook, co-authored with Eliot, which won the American Horticultural Society's Book Award in 2014. Her writing has also been published extensively in national magazines.
From 1979 to 1992 she operated her own firm, Barbara Damrosch Landscape Design, in Washington, Connecticut. Her projects since then have included display food gardens for The Stone Barns Center for Food and Agriculture in Pocantico Hills, New York, and an award-winning kitchen garden she designed for Alitex Limited at the 2001 Chelsea Flower Show in London.
During the 1991 and 1992 seasons she appeared as a regular correspondent on the PBS series "The Victory Garden." She co-hosted, with Eliot, the series "Gardening Naturally" for The Learning Channel, airing from 1993-2003.